Overview
Plantar fasciitis is a painful inflammatory process of the plantar fascia, a thick fibrous band of connective tissue originating on the bottom surface of the calcaneus (heel bone) and extending along the sole of the foot towards the five toes. Pain in the arch or heel often indicates inflammation of the long band of tissue under the foot (the plantar fascia). It can cause sharp pain and discomfort in either the mid arch region or at the inside heel, and less commonly the outside heel. It frequently causes pain upon rising from rest (especially first thing in the morning) and can progress to agony by the end of the day. Although plantar fasciitis is the most common cause of this pain, it must be skilfully differentially diagnosed from other conditions via a thorough history taking and physical examination.
Causes
It is common to see patients with Plantar Fasciitis who have been wearing shoes that are too soft and flexible. The lack of support can be stressful on the heel for those patients who's feet aren't particularly stable. If these ill fitting shoes are worn for long enough, the stress will lead to Heel Pain as the inflammation of the fascia persists. Footwear assessment and advice will be essential in order to get on top of the Plantar Fasciitis. It may surprise some people to learn that high heeled shoes are not the cause of Plantar Fasciitis, although they can cause tight calf muscles. High arches can lead to Plantar Fasciitis. This is due to the lack of contact under the sole of the foot. Even sports shoes which appear to have good arch support inside are often too soft and not high enough to make contact with the arch of the foot. Hence, the plantar fascia is unsupported. This can lead to Heel pain and Plantar Fasciitis. Flat feet can lead to Plantar Fasciitis. Flat feet is caused by ligament laxity and leads to foot instability. Other structures such as muscles, tendons and fascia work harder to compensate for this instability. Heel pain or Plantar Fasciitis arises when the instability is too great for these other structures to cope with. The strain on the fascia is too severe and the inflammation sets in. Over stretching can lead to Plantar Fasciitis. Certain calf stretches put the foot into a position that creates a pulling sensation through the sole of the foot. This can cause Plantar Fasciitis which can cause pain in the arch of the foot as well as Heel Pain.
Symptoms
If you have Plantar Fasciitis, you will most likely feel a sharp pain under the ball of you heel and it will often give pain when standing after a period of rest. For example when you get out of bed in the mornings or after being sat down. Some patients describe this feeling as a stone bruise sensation, or a pebble in the shoe and at times the pain can be excruciating. Patients with Plantar Fasciitis can experience pain free periods whereby the think they are on the mend, only for the heel pain to come back aggressively when they appear to have done nothing wrong. If your plantar fasciitis came on very suddenly and the pain is relentless, then you may have Plantar Fascial Tears. We will be able to differentiate between these 2 conditions, sometimes with ultra sound imaging. The treatment for each of these conditions will need to be very different.
Diagnosis
Plantar fasciosis is confirmed if firm thumb pressure applied to the calcaneus when the foot is dorsiflexed elicits pain. Fascial pain along the plantar medial border of the fascia may also be present. If findings are equivocal, demonstration of a heel spur on x-ray may support the diagnosis; however, absence does not rule out the diagnosis, and visible spurs are not generally the cause of symptoms. Also, infrequently, calcaneal spurs appear ill defined on x-ray, exhibiting fluffy new bone formation, suggesting spondyloarthropathy (eg, ankylosing spondylitis, reactive arthritis. If an acute fascial tear is suspected, MRI is done.
Non Surgical Treatment
Biomechanical plantar fasciitis can be easily reduced by correcting misalignment of the feet. Wearing orthopedic shoes for plantar fasciitis and orthotic inserts is an easy, effective method of naturally realigning the foot. Worn consistently from first thing in the morning to last thing at night, orthotic support can reduce and sometimes eliminate plantar fasciitis. Biomechanical plantar fasciitis can be easily reduced by correcting misalignment of the feet. Wearing orthopedic shoes for plantar fasciitis and orthotic inserts is an easy, effective method of naturally realigning the foot. Worn consistently from first thing in the morning to last thing at night, orthotic support can reduce and sometimes eliminate plantar fasciitis. Preserve Your Arch with Strengthening Exercises. While seated and barefoot, squeeze your foot as if you have a small marble under the ball of your foot. If you just happen to have a few marbles handy, you can actually practice picking them up between your toes and ball of your foot - and then set them down again. This stretches and helps strengthen the muscles that run under metatarsals (the longest bones in the foot which create its arched shape). Slowly Increase Physical Activity. If you're a runner, a tried and true method of preventing over-use injuries is to only increase your mileage by 10% weekly, max. If you're new to a walking program, the same caution should be exercised. Ice and Rest. After mild stretching, use a frozen water bottle to roll under the arch of your foot for 10-20 minutes. It may be possible to make an active recovery by wearing Orthaheel Technology to keep your feet naturally aligned, therefore reducing strain on the plantar fascia, while moving throughout your day.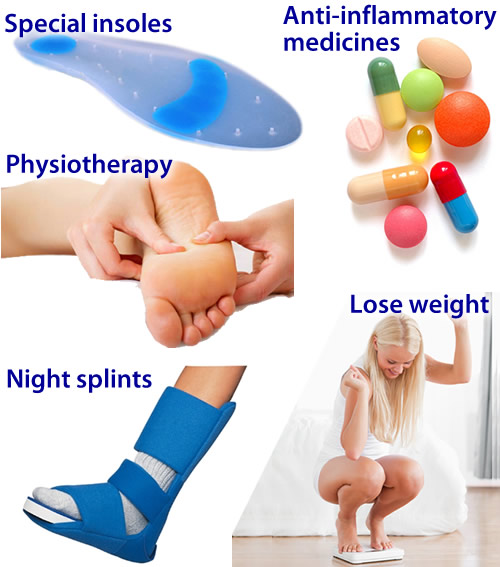 Surgical Treatment
Surgery for plantar fasciitis can be very successful in the right patients. While there are potential complications, about 70-80% of patients will find relief after plantar fascia release surgery. This may not be perfect, but if plantar fasciitis has been slowing you down for a year or more, it may well be worth these potential risks of surgery. New surgical techniques allow surgery to release the plantar fascia to be performed through small incisions using a tiny camera to locate and cut the plantar fascia. This procedure is called an endoscopic plantar fascia release. Some surgeons are concerned that the endoscopic plantar fascia release procedure increases the risk of damage to the small nerves of the foot. While there is no definitive answer that this endoscopic plantar fascia release is better or worse than a traditional plantar fascia release, most surgeons still prefer the traditional approach.
Stretching Exercises
The following exercises are commonly prescribed to patients with this condition. You should discuss the suitability of these exercises with your physiotherapist prior to beginning them. Generally, they should be performed 2 - 3 times daily and only provided they do not cause or increase symptoms. Your physiotherapist can advise when it is appropriate to begin the initial exercises and eventually progress to the intermediate and advanced exercises. As a general rule, addition of exercises or progression to more advanced exercises should take place provided there is no increase in symptoms. Calf Stretch with Towel. Begin this stretch in long sitting with your leg to be stretched in front of you. Your knee and back should be straight and a towel or rigid band placed around your foot as demonstrated. Using your foot, ankle and the towel, bring your toes towards your head until you feel a stretch in the back of your calf, Achilles tendon, plantar fascia or leg. Hold for 5 seconds and repeat 10 times at a mild to moderate stretch provided the exercise is pain free. Resistance Band Calf Strengthening. Begin this exercise with a resistance band around your foot as demonstrated and your foot and ankle held up towards your head. Slowly move your foot and ankle down against the resistance band as far as possible and comfortable without pain, tightening your calf muscle. Very slowly return back to the starting position. Repeat 10 - 20 times provided the exercise is pain free.